Tsoknyi Rinpoche: Sogyal Rinpoche & The Tibetan Book of Living and Dying
Tsoknyi Rinpoche, renowned Tibetan Buddhist master and author of three books, Open Heart, Open Mind, Carefree Dignity, and Fearless Simplicity, shares his thoughts on Sogyal Rinpoche and his legacy in writing The Tibetan Book of Living and Dying:
"Sogyal Rinpoche is a great teacher who was born in Tibet and nurtured by all the great masters of our time, especially Jamyang Khyentse Chokyi Lodro, Dudjom Rinpoche and Dilgo Khyentse Rinpoche. He also received teachings from my father Tulku Urgyen Rinpoche.
Rinpoche has inherited all the ancient Dharma teachings and practiced them under the guidance of these great beings. Then after he came to the West, he deeply studied the language, the way of thinking and the psychology of people in the modern world.
I have always admired how he has made every effort to bring the Buddhist teachings into the modern world, and tried his best to eliminate basic human suffering.
He did this especially through his book, the Tibetan Book of Living and Dying, which continues to help so many people around the world. Wherever I go, people talk about it. How, for example, when someone in their family has passed away, they go through the book and it benefits them so much. This book benefits both those who are passing away, and those who are alive. I really believe that this book is tremendously helpful for many thousands and millions of people and for that reason I am really happy."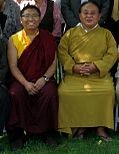 What is your story about The Tibetan Book of Living and Dying? To share it, follow this link: Share your story.