This is it.
Rafael Saenz writes from Barcelona: "Here is my story: A friend of mine recommended The Tibetan Book of Living and Dying to me, back in 1993. I was living in New York City at the time. The book had just come out, and it was a big success. I bought a copy, but since I had no special interest in Buddhism or in Tibet at that time, I did not read it for a while. It just sat on my bookshelf. One day—don't ask me why—I began to read it. I could not stop reading it. I was really astonished by the wisdom and also the beauty in it. When I finished reading it, towards the end of October 1993, I remember shedding tears. 'Too bad it is a Buddhist book,' I thought, 'Religion does not interest me at all.'
But its truth had really shaken me. It was a Friday evening when I finished it. The back pages mentioned this teacher who taught all over the world, and a number to call if we wanted more information. And I thought: 'Well, if he ever comes to New York it could be interesting to listen to him.'
For a while I hesitated, wondering whether to call or not. It was late on a Friday evening, and I thought that nobody would be at the office to answer the phone. Then I realized that the US office was in California, which is three hours behind New York, and so I decided to call anyway. An answering machine replied, explaining Sogyal Rinpoche's teaching and book-signing schedule: Saturday and Sunday… New York City.
Baffled by the coincidence that he was going to be in my city the following day, I went to Saint Peter's Church to listen to him. On the next day I went again, and heard him answering questions from the public. A lady asked: 'How do you find a master?' I can't recall Rinpoche's answer very well, but I will never forget my own reaction… here is a real Master in front of me!
I asked one of the students about the little flyer that mentioned the meditation sessions on Thursday evenings, and her friendliness and openness got me. 'Just come,' she said. At the time there were no courses and very few videos, but I was looking forward to those Thursday night gatherings in a very spacious Soho loft.
In November 1993 I went to my first retreat in California, and then I thought, 'This is it. This is my master… this is my path.' As is explained beautifully in The Tibetan Book of Living and Dying, meeting my teacher was the most important event of my life."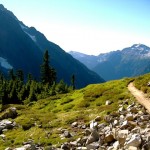 What is your story about The Tibetan Book of Living and Dying? To share it, follow this link: Share your story.