The Essence of the Buddha's Teaching
During his recent teaching tour in Australia, Sogyal Rinpoche, author of The Tibetan Book of Living and Dying, gave an inspired series of public talks in Sydney and Melbourne.
In this first extract from a talk in Sydney, Rinpoche shares a teaching on the importance of discovering inner peace and contentment––what the Buddha called "the most excellent wealth"––which is in part based on a message from His Holiness the Dalai Lama.
Though the teachings of the Buddha are vast, and number more than a hundred volumes, Rinpoche explains how they can all be summed up into these four simple lines:
Commit not a single unwholesome action,
Cultivate a wealth of virtue,
And to tame this mind of ours,
This is the teaching of the Buddha.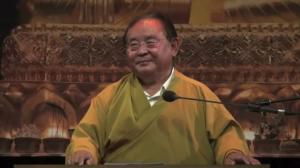 Other selections from this teaching will appear soon.
For more teachings and information on Sogyal Rinpoche's schedule, don't forget to keep checking SogyalRinpoche.org.