Remembering Khandro Tsering Chödrön
It is now two years since Khandro Tsering Chödrön, the great dakini [female embodiment of enlightened energy] and accomplished practitioner, passed away. The embodiment of utter simplicity and unflagging faith and devotion, she was an inspiration to all who met her whether in the East or in the West, where she spent the last years of her life at Sogyal Rinpoche's main retreat centre in the south of France.
For the newest post to our series Remembering the Masters, we're pleased to share this beautiful short video commemorating her exemplary life.
Here is a passage of Sogyal Rinpoche's unforgettable recollection of her in Chapter 9 of The Tibetan Book of Living and Dying:
In a figure like Khandro Tsering Chödrön, the greatest woman master of our day, who was the wife of my master Jamyang Khyentse, you see very clearly what years of the deepest devotion and practice can create out of the human spirit. Her humility and beauty of heart, and the shining simplicity, modesty, and lucid, tender wisdom of her presence are honored by all Tibetans, even though she herself tried as far as possible to remain in the background, never to push herself forward, and to live the hidden and austere life of an ancient contemplative.
Jamyang Khyentse was the inspiration of Khandro's entire life. It was her spiritual marriage to him that transformed her from a very beautiful and slightly rebellious young woman into the radiant dakini that other great masters hold in the highest regard. Dilgo Khyentse Rinpoche looked to her as a "spiritual mother," and always used to say how privileged he felt that of all the Lamas she revered and loved him most deeply. Whenever he used to see Khandro, he would take her hand and tenderly caress it, and then slowly place it on his head; he knew that was the only way he could ever get Khandro to bless him.
Jamyang Khyentse gave Khandro all the teachings, and trained her and inspired her to practice. Her questions to him would be in the form of songs, and he would write songs back to her, in an almost teasing and playful way. Khandro demonstrated her undying devotion to her master by continuing to live after his death in the place in Sikkim where he lived toward the end of his life, where he died, and where his relics are kept, enshrined in a stupa. There, near him, she carried on her clear, independent life, devoted to constant prayer. She read the whole Word of the Buddha and hundreds of volumes of commentaries, slowly, word by word. Dilgo Khyentse Rinpoche used to say that every time he went back to the stupa of Jamyang Khyentse, he felt as if he were coming home, because Khandro's presence made the atmosphere so rich and warm. It was as if, he implied, my master Jamyang Khyentse was still present and still alive, in her devotion and her being.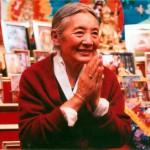 For more videos in the series Remembering the Masters see the following posts:
Memories of Jamyang Khyentse Chökyi Lodrö
For more about Khandro Tsering Chödrön, see In Memory of Khandro Tsering Chödrön and her entry on the Rigpawiki.