Realizing Our Ultimate Nature
Here is a short extract of a recent teaching Sogyal Rinpoche gave in Paris.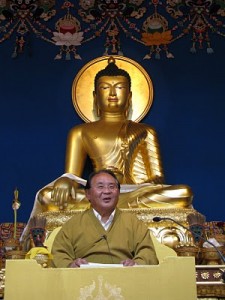 You can find more of Sogyal Rinpoche's recent teachings as they become available at SogyalRinoche.org.
The most important point is for us to realize our ultimate nature—to purify our perception and realize the essence of our mind.
How exactly can we do this?
There are three ways: through meditation, through compassion and through devotion.
As the great masters often say, the essence of all of the Buddha's teachings is to tame or transform this mind of ours. When we transform our minds though meditation, compassion or devotion, then what is amazing is that our perception begins to transform. When our perception is transformed, then even outer appearances and circumstances begin to change.