On a Spiritual Quest my Whole Life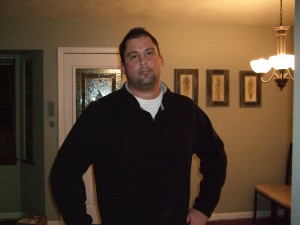 Dominic Meneghetti, from Rockford Illinois, USA writes: I have been studying World Religions for the last 15-20 years. I was raised Catholic and yet I was the only one in my family that got out of going to church before the age of 18. I was 16 years old and for over two months, I read about Ghandi & Henry David Thoreau and practiced Civil Disobedience – staying in my room and was continually grounded for days on end until my Mother told me that she now understood that I wasn't getting anything out of going to Church and she wished I would but followed up with – you don't have to go to Church anymore and I won't punish you for not going.
Since that moment, I began taking more and more history classes in high school. I then went of to college and recieved a Bachelor's in History with a minor in International Studies. I took out student loans and traveled to Vietnam, studying their Buddhist tradition, their culture & politcal structure. I then traveled to Italy and Russia. I took a World Religions class where my teacher taught our class a 20 minute Buddhist meditation excercise (which I still use to this day to de-stress and clear my mind). I studied Buddhism a litte bit in college but was more interested in Native American spirituality and actually went with my World Religions/History Professor and other students and participated in an actual Native American Sweat Lodge.
After graduating with my B.S., I attended the University of Illinois at Springfield and received my Master's in History concentrating in U.S., World, and Environmental History. Since then I have taught World & U.S. History and Western Philosophy, Ethics, & Humanities at the University level at Colorado Technical University Online and at Rasmussen College in Rockford, IL.
My point to all of the information about myself above is that – I have felt like I have been on a spiritual quest my whole life. Always chasing the questions such as, "Why are we here? What is our purpose? Why do we suffer?Why are things the way they are?"
Just recently, when my brother's wife died from cancer at the age of 32, I really started to break down and had a hard time dealing with it. I went to visit my best friend who actually studied Tibetan Buddhism at Khadro Ling in Ires Coures, Brazil for nine years. He also attended the International Buddhist Academy in Kathmandu, Nepal and ended up marrying his Tibetan Language teacher.
When I visited with him, I asked, "What does Buddhism believe in when it comes to death and dying?" He immediately handed me the book – The Tibetan Book of Living and Dying and told me to read, keep it. Since I have read that, it has changed my entire outlook on death and dying. I also came to understand and gain a higher respect for the beautiful Tibetan Buddhist tradition/religion. I love it as I have always understood and believed in the idea of karma. But even now, I am continuing to understand more and in a more beautiful way. I have also been reading material from Dharma Publishing, Rigpa.org, and the Center for Skillful Means.
Thank you Soygal Rinpoche for bringing the wisdom and knowledge of Tibetan Buddhism to me. Thank you so much. 🙂 And, I can't wait to take on the life long learning process of the tradition.
What is your story about The Tibetan Book of Living and Dying? To share it, follow this link: Share your story.