Introducing SogyalRinpoche.org!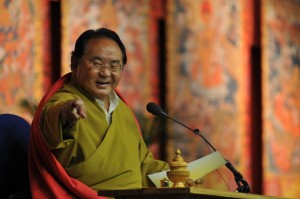 We are very pleased to announce the launch of a new website dedicated to the life, teachings and activity of Sogyal Rinpoche, who along with being the author of the renowned The Tibetan Book of Living and Dying is a highly regarded and influential Buddhist teacher. Having taught in the West now for over 40 years, Rinpoche regularly hosts retreats, public talks and weekends in Europe, North America, Asia and Australia. Over the past four decades, he has given hundreds of teachings, been instrumental in supporting many other great Tibetan masters to visit and teach in the West, and has founded and developed several key spiritual institutions and organizations including:
—Rigpa, which, with more than 130 centers in 41 countries around the world, is dedicated to presenting the Buddhist tradition of Tibet in a way that is both completely authentic, and as relevant as possible to the lives and needs of modern men and women;
—The Tenzin Gyatso Institute, which, named after the 14th Dalai Lama of Tibet, was established with the mission of serving and advancing his vision, principles, and values; and
—Major retreat centers for Buddhist study and practice at Lerab Ling in south France, Dzogchen Beara in Ireland, Tongnyi Nyingje Ling in New York state, and Dharmamati in Berlin, and more.
Rinpoche's vision also inspired the innovative outreach programme, The Spiritual Care Programe, which has provided non-denominational education and care since 1993. The Programme has worked with hospitals, hospices and universities, and offered courses to more than 30,000 healthcare professionals and volunteers in Europe, Australia and the United States in all areas of healthcare and social services, and supported many people facing difficulties, illness, death, or bereavement, and their families.
SogyalRinpoche.org features a growing selection of Rinpoche's best teachings, links and information related to his broad spectrum of activity both in the West and East and also information about his life and his masters, news and events, and his current teaching schedule.