A Symphony of Living and Dying
When award winning music composer, performer and conductor Nigel Westlake from Australia, lost his 21 year old son Eli in 2008 in a tragic murder, he was devastated with grief. After many years of successful composition and performance, he wasn't sure how he would be able to carry on his musical career. In an interview with The Australian he said: "I really thought I was finished musically. There was nothing more to be said. The muse had disappeared,"
After more than a year passed by, unable to compose and struggling with grief, Westlake began work on a tribute to his murdered son–a very beautiful and moving requiem entitled Missa Solis–requiem for Eli. This composition draws inspiration from Sogyal Rinpoche's The Tibetan Book of Living and Dying, particularly in the 3rd movement called Song of Transience, which includes passages from the book poignantly sung by a young male treble. The requiem had it's debut performance with the Sydney Symphony in October 2011 went on to win Australia's Orchestral Work of the Year.
Westlake told The Australian:
"When we lost Eli, I found myself obsessing about where he was and what we could do to help him. I found great consolation in the Buddhist teachings of The Tibetan Book of Living and Dying."
Later, when he approached Rinpoche about using his words in the piece, he was invited to a weekend of teachings, which coincidentally occurred during the trial of the woman convicted of Eli's murder.
"The trial was hugely painful," Westlake says. "It was like losing Eli every day, all over again. But to spend a weekend with Rinpoche, right in the middle of all that, was like being in the eye of a cyclone."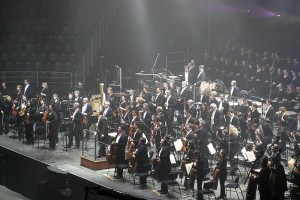 You can watch a video of "the song of transience" here, which includes the following passage:
This existence of ours is as transient as autumn clouds.
To watch the birth and death of beings is like looking at the movement of a dance.
A lifetime is like a flash of lightning in the sky,
Rushing by, like a torrent down a steep mountain.
–The Tibetan Book of Living and Dying, page 25
What is your story about The Tibetan Book of Living and Dying? To share it, follow this link: Share your story.